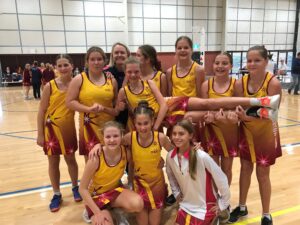 Round 2 of the QGSSSA Netball competition evaded last week's wet weather, culminating in 2 schools now chasing the Open netball crown, with Moreton Bay College (MBC) and Brisbane State High School (BSHS) balancing equal first at the top of the ladder. St Peters was the sleeping giant on a bye weekend for the Open team and will be back firing this Saturday when they play St Aidan's, meanwhile St Margaret's played their first round after a bye in Week 1 and stormed in with a 40 to 20 win over a strengthening young St Aidan's team, to announce they are also here to play.
Somerville House went up against MBC at Nissan Arena, the MBC Open team started off slowly with Somerville taking full advantage of this to trail by only eight points at half time. The girls from the Bay soon hit their stride and inched away for an 18-goal victory. MBC's Brooke Marchant was everywhere in the mid-court, whilst Savannah Worship was always reliable under the post, barely missing a shot.
MBC's 7A and 7B teams both had compelling victories, displaying controlled ball-movement down the court, coupled with tight and unrelenting pressure in defence. In the 7A's Charlie Stickney was a standout performer, shooting accurately and also creating turnovers through the mid-court, whilst in the 7B's Ella Hegde and Gabby Lynch both showed great composure through the midcourt. The Senior A team continued on their winning ways with Queensland basketball representative Alice Dart showing she is not a one-sport wonder, pulling in intercept after intercept in defence. The 10A team also had a solid victory. Millie Jennings returned from injury and slotted right back into the line-up, whilst Piper Gately and Poppy Reed teamed well in the defensive circle, dominating the rebounds and providing drive up the court.
In the 9B's Amelia Selman was a workhouse in the centre court, whilst Hayley Yeates was unstoppable in defence for the 8A's. The 7C team continues to impress and improve each week, with the McElroy twins Kate and Oliva both putting in great performances.
In the closest match of the day, the Senior B MBC team held on for a 5-goal win, with the Somerville House team relentlessly taking care of business in each of the quarters and keeping MBC on their toes. Elsewhere at Nissan Arena, MBC's 10B's had their second win in as many weeks with standout performances by Zoe Fotinis and Emma Donaldson. The 9A's had their first hit out for the year and clicked together from the first whistle, with Claudia Hill dominant in goals, and Lily Shultz and Chiara Wise connecting well through the mid-court.
St Aidan's played St Margaret's in a clash of sister schools, with all games keeping netball fans on edge. Play ended with 7 wins to St Aidan's and 4 to St Margaret's and St Aidan's Senior A, Senior B and 10B remain undefeated after first 2 rounds of the season.
St Margaret's Open Team impressed, with Aimee Young, Ella Antonie, Sascha Hughes, Sienna Small and Lauren Packer debuting and setting the court alight -. This team is coached by St Margaret's alumni and former Firebird, Karen Brown, who is looking forward to taking this fresh crew through the rest of the season and seeing what they can do. The 7A's girls took to the court, and after a leisurely start from St Margaret's the ladies found themselves a few goals behind St Aidan's at half time. Enjoying a friendly rivalry with their Corinda sisters the girls rallied together and decided they had more to give and fought back to finish the third quarter just in front. The final throes of the game saw St Margaret's play their best netball with some game changing intercepts, creative attacking and strong shooting helping to secure a 32-25 win. Adelaide Bothwell, Chloe Crook, Lucy Gordon, Emma Hicks and Ella McLean all played at the recent Netball Queensland State Age Competition, and their experience in playing tight contests whilst remaining focused and positive was invaluable.
Dominant performances from St Aidan's 8A, 9A and 10A teams highlights the development of the junior program at St Aidan's, and their were stand-out performances from 10A (Caitlin Bailey), 9A (Indiana Richter) 8A (Zara Hughes).
BSHS Open team defeated Brisbane Girls Grammar (BGGS) 44-16 with an outstanding game from Losehina Mulligan and Tiana Afoa in the defensive circle, only letting through 4 goals in the second half.
The BSHS Senior A's had a rocky start and were losing to a composed Grammar team at half-time, only to mount a comeback on the tips from Payton Ross, and conversions from Beatrice Bright to win by nine goals 33-24. BSHS 8B's had a nerve wracking one goal win, with Piper Snow's defensive pressure leading to an outstanding number of turn overs.
Ipswich Girls' Grammar played St Hilda's with an even sheet of wins and losses across the two sides. The Ipswich 7A's are a fierce team of new contenders and had a tidy 27 to 10 win in their second game of QGSSSA netball. The Ipswich Open team also shone with Mia Guthrie and Carter Gregory offering some sparkles in goals. Neve Payne was a stand-out in defence.
St Peters played Clayfield College and had a quieter weekend with key teams on byes and some supplementary games. The Senior A game was a highlight for both schools. St Peters had a strong first half with a flow of tips, pickups and intercepts, and Clayfield then found their momentum in the second half with both teams being evenly matched. This gives Clayfield a confidence boost ahead of Round 3.
Round 3 of the QGSSSA netball season will take place this Saturday the 30th of July.
Susan Uhlmann
QGSSSA Content Coordinator
Tuesday, 26 July 2022