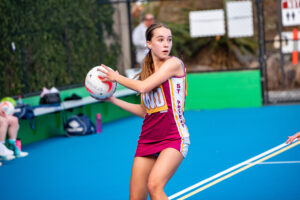 The 2022 QGSSSA Netball Season kicks off this weekend and it promises to be a hotly contested race to the premierships, in what is expected to be the first uninterrupted round of fixtures for the last two seasons.
Schools are encouraged by record high participation rates for netball, indicating it remains one of the most popular sports at a schoolgirl level. Action packed pre-seasons of training, trials and camps have prepared athletes well for nine rounds of competitive contests. QGSSSA netball has always offered a strong pathway through to representative honours, and schools provide world-class coaching and facilities for players to enjoy the sport and realise their potential.
To begin the season, we caught up with coaches and team coordinators to get the inside word ahead of Round 1, this Saturday the 16th of July.
Netball powerhouse, St Peters Lutheran College lead a successful 2021 Opens campaign finishing last year at the top of the ladder, closely followed by Brisbane State High School, St Margaret's Anglican Girls School (equal runner-up) and Moreton Bay College. St Peter's senior line-up will include Queensland Schoolgirls U18 player Renee Cubby, and fellow regional representative players Millie Thomas, Annie Ireland & Aldora Tuilaepa.
In the younger age groups St Peter's displays a depth of developing talent with Jazelle Dilworth, Amelia Ruthenberg, Romi Van Beest, Ella Macartney & Makayla Cubby representing Met West U15; and Elyse Rolison – U12 Met West. Teams to watch will be 8A and 9A, both undefeated in 2021.
Moreton Bay College will again be striving for the top, and their Open team match up again St Peters Lutheran College in Round 8 will be one to watch. The team from Moreton Bay will include U17 Australian Squad member Sophie Dobson, who will be travelling up and down the court with fellow Metropolitan East teammates Abby Dobson, Sarah Joyce and Pippa Letnic. Coaching line-up includes Amanda Kelly (Open Coach) – Assistant Coach Queensland U17 and Australian netball royalty Vicki Wilson, one of the greatest goal shooters of all time. Moreton Bay 7A's features Queensland 12 years rep player Gemma Fotea, who is joined by other Met East reps such as Emily McBrien, ready to make their debut in the QGSSSA competition.
St Margaret's Open Team has secured ex-Firebird and St Margaret's alumni Karen Brown as Coach. Karen will oversee a talented group of netballers, many of whom have just returned from a successful campaign at Qld Independent Secondary Schools Netball (QISSN) in Mackay. St Margaret's Open team includes young gun, year 10 player Lauren Packer for her debut Open season. Lauren is a Boarder from the Roma region in Queensland and is a defender on the pathway to many future representative honours. Lauren currently plays for Downey Park Netball Association (DPNA) and Cougars in their representative programs.
St Aidans Open team will be coached by Anita Williamson. There is a good mix of senior students and younger players in the team who are looking forward to rising to the challenge of competing in a very strong QG competition. St Aidan's most competitive year group over the last few seasons have been the current Year 10's. They have been vying for a place at the top of the ladder across all three divisions since they were in Year 7, and this year will be no different. In addition, the 9A squad will be looking to build on their 3rd place finish last season under the guidance of highly experienced coach Tracey Jeanes-Fraser.
Somerville House Opens have retained most players from last season which has given the team an opportunity to gel at the highest level. The outfit includes Somerville Boarders Kailani Brazier and Jasmine Davis, both from Papua New Guinea. Kailani plays for the national side in PNG, and Jasmine is a star on the rise with incredible speed around the court. Somerville's Senior A's have been training well and have great depth as a squad with three senior teams this season. The 10A's have rising stars that are ready to break the competition wide open. Somerville are looking forward to matches with Brisbane Girls' Grammar and St Peter's Lutheran College, teams that traditionally provide great battles across all age groups and divisions.
Ipswich Girls Grammar School enjoyed a successful campaign at the recent Vicki Wilson Cup, winning all rounds leading into a hotly contested final versus St Peters Lutheran College where they were narrowly defeated 7-5. Their squads will be in the mix, and keen contenders across the courts this season.
Finally, always a strong contender, Brisbane State High School will again be a key competitor across all age groups. State High have a very strong Opens team coached by Rylee Ruhi and featuring Kydan Tuapou who plays in the ruby squad for the Wildcats. This team are especially looking forward to their match up with Moreton Bay College in Round 4. State High's 9A team is also one to watch with three under 15 state players in Eden Ah toon, Riley-Jay Henry-Purcell and Harley Kingi.
Spectators are welcome to catch the action and excitement of the QGSSSA netball season. Round 1 will feature the following teams and information on venues and upcoming fixtures can be found on www.qgsssa.com.au
Susan Uhlmann
QGSSSA Content Coordinator
Friday, 16 July 2022